Advanced Markets at the iFXEXPO International 2018
When:
May 22-24, 2018
Where: Spyros Kyprianou Centre, Polemidia, Limassol 3080, Cyprus
How to connect?

Stop by Booth #31 and speak with our Team (complete a form to schedule a meeting).
Attend our Workshop on May 23, 13:00 - 13:30 - "How does one valuate FX Brokerage if you were to buy or invest in one? What premium should you pay?" Register here.

Attend a Panel Discussion on May 24,

11:45 - 12:30 - "Regulation: GDPR, MiFID 2, Leverage".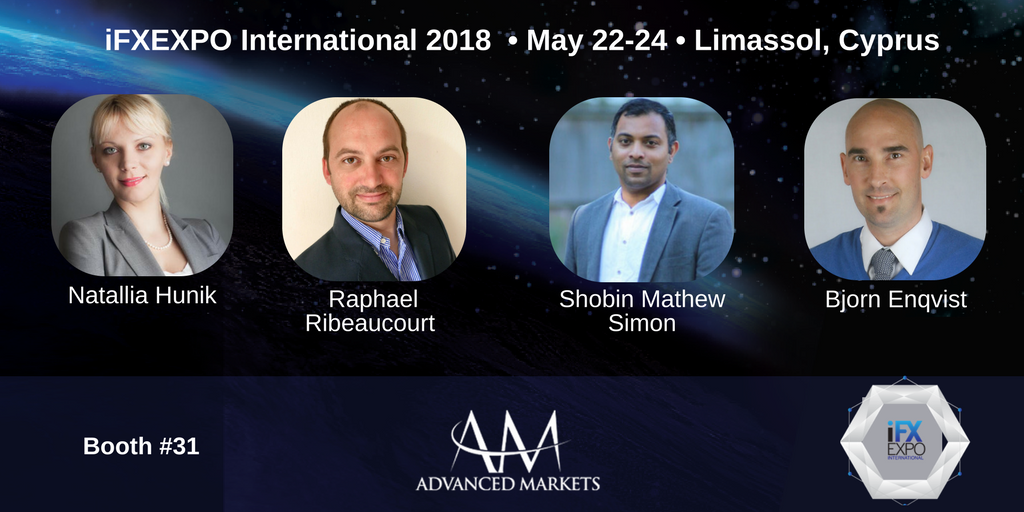 iFXEXPO International, organized by Finance Magnates and ConversionPros, is the world's largest B2B financial expo, attracting thousands of attendees and exhibitors.
Advanced Markets, the industry's leading Prime of Prime and wholesale provider of liquidity, technology, and credit solutions to banks and brokers, is once again exhibiting at the iFXEXPO. We invite you to stop by our booth to discuss the solutions that can help grow your business, as well as looking at the recent regulatory changes and how best to navigate them.
More about the event: https://www.ifxexpo.com/